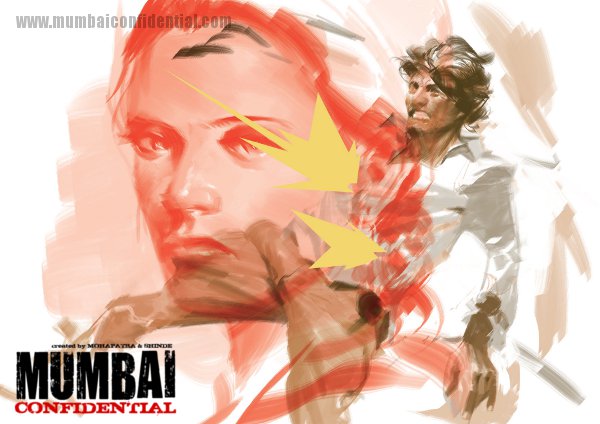 We make no secret of the fact that Mumbai Confidential is a love song to the pulp crime / hard-boiled movies and books we love (both Indian and Foreign). So from time to time, when Vivek and I discuss the visual tone/feel of MC, the amazing Mr. Shinde dashes off some quick explorations. These may or may not have direct implications on the main story art, but they are damn cool to look at.
We've used old hindi movie posters like this one, pulp crime book covers etc. for inspiration to strike the correct balance between the classic pulpy hardboiled-ness and Vivek's unique painted style in MC art.
Since Vivek has been overloading my awesome-ness sensors for a while now, I felt that the time has come to share with you some of those images. 🙂
About Mumbai Confidential
Mumbai Confidential is a crime noir comic book series created by Saurav Mohapatra and Vivek Shinde [more…]
The image is for preview purposes only. Mumbai Confidential is copyright and trademark of Saurav Mohapatra and Vivek Shinde. All rights reserved. This site's content are copyright of Mohapatra and Shinde. All rights are reserved.